I recently overheard a customer remarking about how she hadn't encountered many of the names of our cheeses before, and for good reason: many of the names we have bestowed on our cheeses do not correspond with their traditional names. Instead, many of our cheeses are named for sentimental reasons, and often have an interesting story behind them.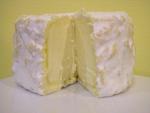 The Lady Jane is one such cheese: a French-style, mold-ripened, cows' milk cheese with a delicate bloomy rind and a creamy paste inside. Our Lady Jane can be best described as having a "cheesecake" texture. Several years ago, when we first developed the Lady Jane, we, in conjunction with Les Amis du Fromage, a specialty cheese store in Vancouver, held a competition to name the cheese. The winning name, Lady Jane, was especially fitting since we had taken to naming our Guernsey cows with aristocratic titles (Duchess, Countess, etc.).
Lady Jane has become a very popular cheese at the Nat Bailey Vancouver Farmers Market, it is also available at a number of fine cheese retailers in Vancouver.